The Bootleg Series (1991)
Det finns väl ingen artist som har bidragit till en hel marknad för bootlegs som Bob Dylan. I början var alla bootlegs med inspelningar av Dylan piratkopior i form av inspelade kassettband. Med The Basement Tapes gjordes för första gången sådana inspelningar officiella, fast då med en del påläggningar. På The Bootleg Series, volume 1-3: (Rare & Unreleased) 1961-1991 har inspelningarna behållit sin karaktär av bootlegs.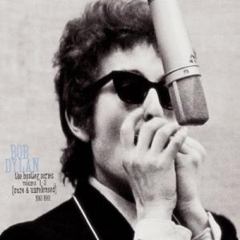 Det handlar om tidigare outgivna låtar som "Hard Times In New York" från 1961. Det handlar också om låtar som ratades vid studioinspelningar, så kallade outtakes. I fallet Bob Dylan är det välkänt att många suveräna låtar har spelats in vid en studioinspelning för att sedan aldrig dyka upp på albumet eller att en sämre version av låten givits företräde. På The Bootleg Series hittar man bland annat "Mama, You Been On My Mind" som inte togs med på Another Side of Bob Dylan, "If You Gotta Go, Go Now" en outtake från Bringing It All Back Home och "I Shall Be Released" som märkligt nog inte hamnade på The Basement Tapes.

Bob Dylans allra mest märkilga bortval av låtar infinner sig förmodligen under 80-talet. På The Bootleg Series kan äntligen låtar som "Blind Willie McTell" samt andra outtakes från Infidels höras. Här finns även "Someone's Got A Hold Of My Heart" som under inspelningarna till Empire Burlesque bytte namn till "Tight Connection To My Heart" och till slut resulterade i en betydligt sämre låt.
Inte minst är The Bootleg Series också ett dokument över Bob Dylans första ohyggligt produktiva period då den rikliga mängd låtar han skrev omöjligt kunde få plats på de LP-skivor som släpptes.
Som helhet är denna utgåva ett måste med hela 58 låtar varav många är oförglömliga som "No More Auction Block", "Moonshiner", "Eternal Circle" och "Seven Days" (som Dylan gav bort till Ron Wood). I det medföljande häftet på 60 sidor förtäljs tillkomsthistorien för varje sång.

Tillbaka till bootlegs | Studioalbum | Live | Samlingar