Another Side of Bob Dylan (1964)
Titeln Another Side of Bob Dylan belyser väl det sidosteg från de tunga politiska sånger The Times They Are A-Changin' från samma år uppvisat.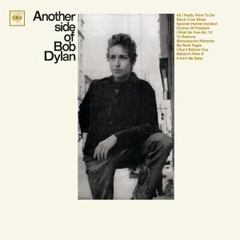 Another Side utgavs i augusti 1964 drygt ett halvår efter förra skivan. På albumet blandar Dylan musik-stilar och teman. Han rör sig mellan blues ("Black Crow Blues"), kärleks-ballader ("To Ramona"), symbolistisk poesi ("Chimes of Freedom") och banaliteter med filmisk inramning ("Motorpsycho Nitemare").
Another Side Of Dylan bjuder på oförglömliga alster som bland annat "Chimes Of Freedom" och "My Back Pages", vilka The Byrds fick hits med kort därefter. Dessa innehåller definitivt politiska aspekter, men till skillnad från vad som bjöds på The Times They Are A-Changin' är dessa flerdimensionella och innehåller även det för Dylan typiska outsider-temat.
Splittringen i tema och musikstil tycks förebåda vad som komma skall på nästa album. "All I Really Want To Do" och "It Aint Me Babe" sneglar mot poplåtens struktur och uttryck.

Tillbaka till studioalbum | Live | Samlingar | Bootlegs