A Tree With Roots
A Tree With Roots är det utökade kompilatet av inspelningarna som gavs ut officiellt på The Basement Tapes. A Tree With Roots består av fyra CD och sammanlagt 108 låtar!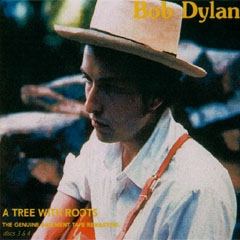 En del av inspelningarna är ofullständiga eller alternativa tagningar och ljudkvaliteten är skiftande. Men som helhet är detta definitivt en av de mer angelägna bootlegs med Bob Dylan som existerar. Inte minst framstår den som angelägen med vetskapen att The Basement Tapes redigerades och fick påläggningar – A Tree With Roots är helt enkelt originalet eller "The Genuine Basement Tapes" som undertiteln lyder.

Låtarna får här ett speciellt sound i deras oredigerade skick och detta tillsammans med det sökande och jordnära uttrycket blir det en mycket märklig produkt.
Till sist ska det nämnas att det också finns två utgivningar av denna bootleg, vilka dock inte skiljer sig nämnvärt. Den långa låtlistan du ser presenterad här är den som finns på A Tree With Roots – The Genuine Basement Tape Remasters och har funnits "tillgänglig" sedan 2001.

Tillbaka till bootlegs |Studioalbum | Live | Samlingar